Customer Reviews
01/07/2022
Monay

United States
This dress surprised me…
I needed a dress for a brunch I was hosting, and this dress was definitely outside of my comfort zone but it DELIVERED! Exceeded my expectations. The only issue I had was static lol but I don't blame it on the dress.. so it kinda climb to my bottom a bit, but I made it work! Would definitely recommend!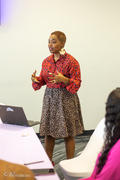 12/13/2021
Tracy

United States
12/13/2021
Tracy

United States
Not your mamas dress...
I never would have even tried this if Hellen didnt recommend. What a cute fun dress! I loved it so much and got tons of compliments. I am wearing a XXL, but probably could have done a XL, which is my normal.
11/15/2021
Kristen

United States
Awesome print dress
This dress is really pretty in person - the prints are awesome. I was worried since it's a button closure that there would be a gap in 2 places - near my stomach and near chest - but there was no gaps in either place! It's a bit short for my comfort level - a few inches above the knee - so I paired it with leather leggings. I would have also worn with black tights. It looks really good on Zoom calls :) Bright pop of red!