Description
Picture this: you in this dress and a cute pair of booties, snuggled up by the fireplace drinking some red wine and snacking on some delicious charcuterie. Or maybe you're out on a date in a dimly lit cozy restaurant. Either way, this gorgeous maroon maxi dress is the perfect balance of elegance and comfort.
What's even better is the ruched top makes it easy to go braless (depending on your comfort level of course). The material is a linen blend which allows for a nice stretch, making this dress perfect to wear for a big holiday meal :) 

Runs true to size, Britt is wearing a L and Amber is wearing a 3XL.
Customer Reviews
12/27/2021
Emily

United States
12/06/2021
Braxton

United States
So MANY Compliments
This dress is so versatile and comfortable! I got stopped by multiple strangers complimenting the dress and the color. I will say the color of the dress is more of a burnt orange than maroon like it says in the description. I am wearing the XXL and would say the dress fit perfectly, I had plenty of breathing room and with a larger chest loved that the it still showed off my curves without exposing too much.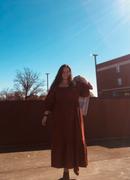 Love love love
I love this dress! I wore it all day thanksgiving while cooking, eating, and napping on the couch :) The material of the dress is thick enough to not be see through but still soft and comfortable. I love the sleeves so much and was worried they would itch but 100% did not and the top was tight enough to go bra less all day. I rented a size large and it fit me perfectly. I honestly should have just bought the dress!!
11/21/2021
Allie

United States
Moulin Ruched
Such a beautiful fall dress! I love the ruched top and the fun sleeves. The material was thicker than I imagined. I wore the XXL and it fit well! Could easily go without a bra thanks to the support from the fitted chest. Wore it and took some fall pictures and felt beautiful!
11/15/2021
Kristen

United States
Easy to wear, a lot of fabric
I was excited to order this as I was looking for something to wear to the Renaissance Festival. It was easy to wear and I loved the bodice and sleeves. It is a lot of material though. At first when I tried it on I wanted to accessorize - maybe try a belt - since it looked like so much red fabric but I couldn't really find anything that worked with it. I also felt in pictures - as a result of all the material - I looked a bit bigger than I actually am.